BOWFEST 2018 - Joint Friday ticket from Oban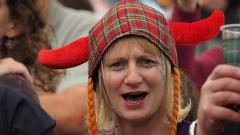 Let us take you by luxury coach direct to and from Inveraray Castle, home of BOWFEST 2018.
With a stunning line-up of bands, you can expect to enjoy great music and much more against the beautiful backdrop of Inveraray Castle and it's grounds.
Our Friday ticket includes travel by luxury coach from Oban to Inveraray Castle and return travel to Oban from Inveraray as well as one day festival tickets.
Outward coach times are:
Dep Oban Railway Station at 5.30pm, arriving in Inveraray at 6.30pm.
Return coach times are:
Dep. Inveraray Castle at 11pm, arriving at Oban Railway Station at 12am.
Festival opening times are 6.30pm to 10.30pm.

For more information on BOWFEST visit www.bowfest.co.uk.
NOTE: We will try to accommodate those who request to be picked up or dropped off along the line of route. Please complete details of the stop required within the 'special requirements' box during booking or contact us to check prior to booking.


Book in two easy steps
Use the calendar below to select your preferred date. Clicking "Confirm Availability" will take to you our dedicated booking site. We look forward to seeing you soon!