City Sightseeing Oban open-top bus tour to Atlantic Bridge 2017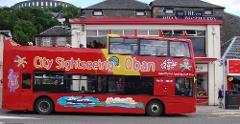 Duration:
95 MINUTES
£8.00
The tour operates daily from Friday 26th May until Sunday 24th September and has one daily departure from Oban Bus Station at 9.30am.
This tour is via a double-deck, open-top bus and takes in Oban and the surrounding area, as far afield as the bridge over the Atlantic where passengers can leave the bus to take pictures of this famous landmark.

A full English commentary is provided and the tour lasts approximately one hour and 20 minutes.


Book in two easy steps
Use the calendar below to select your preferred date. Clicking "Confirm Availability" will take to you our dedicated booking site. We look forward to seeing you soon!