Tobermory Topper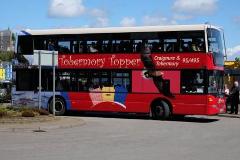 Duration:
55 MINUTES
£11.00
Hop on board our Tobermory Topper to travel in style from Craignure to picturesque Tobermory.

Our double decker bus, will take you along the stunning coastal route to Tobermory where its iconic coloured buildings look even more lovely in real life.

Visit Tobermory's shops, restaurants and cafes or take a guided tour of its distillery. For those with children they can even take a stroll through Balamory, visiting the various village locations where the popular BBC children's series was filmed. There are also lots of opportunities to take short boat trips from its harbour to enjoy Mull's abundant sea and wildlife. See boat trips with Sealife Surveys for discounts available to Tobermory Topper passengers.

The journey between Craignure and Tobermory takes just under one hour.

Note that during the winter months the service will either be operated by our closed-top double-decker or by a local West Coast Motors bus. Your ticket is valid on all vehicles operating on the service.
Tobermory Topper timetable until 30th March 2017
Departure times from Craignure are as follows:
Monday to Friday: 0852NM, 1052, 1252NM, 1452TTh, 1652
Saturday: 0852, 1052, 1252, 1652
Sunday: Does not operate
Departure times from Tobermory are as follows:
Monday to Friday: 0950, 1350TTh, 1545
Saturday: 0950, 1150, 1545, 1750
Sunday: Does not operate
CODES:
TTh - Tuesday and Thursdays only
NM - Not Mondays

While our services are timed to coincide with arrivals and departures of Cal Mac ferries from Oban, you can get full timetable information by contacting our office on 01631 566809, emailing us on information@westcoasttours.co.uk or visiting our shop in Oban.

Book in two easy steps
Use the calendar below to select your preferred date. Clicking "Confirm Availability" will take to you our dedicated booking site. We look forward to seeing you soon!